Even though we are spread out across the country this summer, the ladies of Mu Chapter make sure to find ways to stay in touch. Stalk a few girls' facebooks and you can see our chapter has a few favorite summer activities.
Visit a St. Louis Cardinals or Kansas City Royals game and you are sure to find some DG sisters in the stands. Catching a baseball game is the perfect thing to do on a gorgeous sunny day.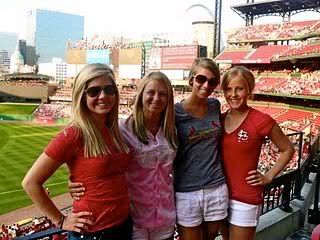 Jill Baker (09), Ashley Schindler (09), Megan Marzano (09), and Jacquelyn Parker (09) cheer on the Cards in St. Louis.
Looking for a mini vacation not too far from home? Then Mu Chapter has an idea for you. Each summer the 2006 Pledge Class took a float trip and, as seniors, they tried to inspire this year's freshman pledge class to take up the tradition. So early this summer members of the 2009 Pledge Class explored Missouri's rivers for a weekend of floating and camping.
Members of the 2009 pledge class 'throw it up' during a day of floating and camping.