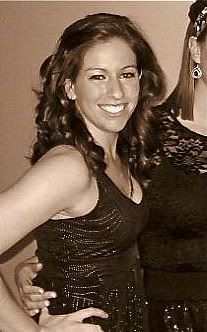 Hometown:
St. Joseph, Missouri
Major:
Biology
Dream Job:
Dermatologist
Past DG Involvement
Dance Director (Fall 2007, Spring 2008, Fall 2009)
Dancer for Homecoming & Greek Week (2006 - current)
RAMS Dancer (2007, 2008)
Other Group Affiliations
Pre-Med Society
FAST FAVORITES
Year in College
: Senior
Class:
Mythology
Experience Outside of DG:
Volunteering at the Cardiac Intensive Care Unit for a semester
DG Lunch:
Chicken fingers & Mac n Cheese
DG Dinner:
Tacos
DG Dessert:
Rice Crispy Treats
Location within DG:
Couch in the yellow room! Great for napping...
DG Performance:
Fall 2009 HoCo
QUICK QUESTIONS
1) Imagine you didn't have DG in your life... describe your personality/life.
"I'd be very, very bored!! I'd also be extremely sad because I wouldn't have met all of my wonderful sisters and my best friends."
2) What about DG will you miss the most?
"First of all, my sisters. Second... dancing!"
TO THE 2006 PLEDGE CLASS:
"Thank you so much for making my college experience so memorable! I won't forget any of you no matter where life takes us. Love you! ITB forever. RMD, Delta Slamma 06!"